History
1949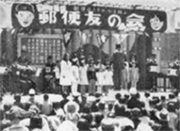 The opening ceremony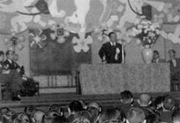 The first national convention
Established the travel club with mail
Yubin Tomonokai, the former name of Pen Friend Clubs of Japan, was established based on the travel club by mail which was organized by the Nagoya Post and Telegraphic Office in 1949. Even in the chaos of postwar Japan, junior high school students who participated in the club traced the delivery route of one postcard from the original mailing point to its destination using railways and automobiles. And they realized that the Japanese mail service had already recovered from the war, and held great hope that "we can communicate with friends in various countries, as well as in Japan, through letters."
And then, the opening ceremony was held in Higashiyama Zoo in Nagoya, and the first national convention of Yubin Tomonokai was held in the main auditorium of Nihon University in Tokyo. In this way, the activities of the club spread all over Japan.
1950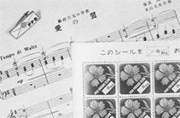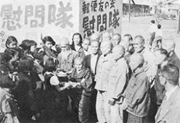 Began corresponding and visiting facilities with compassion
Many activities, such as publishing the official News of Yubin Tomonokai, for information exchange among members, movements for promoting peace, and heartwarming communications through correspondences, were carried out from 1950.
1952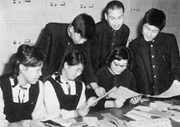 Started a movement to send letters with compassion to prisoners in foreign countries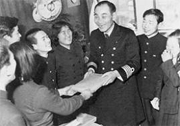 Started family-like correspondences between students and the crews of ocean liners
1953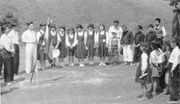 Visited children in under-populated areas
1954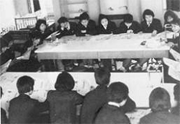 The national correspondence discussion
1956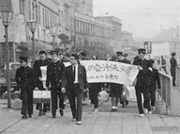 Invited high school students in occupied Okinawa to the main islands and sent members to occupied Okinawa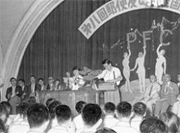 Sent messages of peace to young people around the world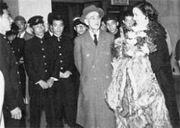 The representative of the Italian branch came to Japan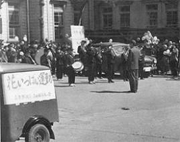 Started a movement to unite the world with flowers
1957
Started a movement against nuclear weapons
1959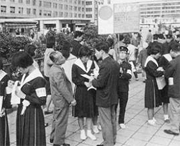 Started a movement to host the Olympics in Tokyo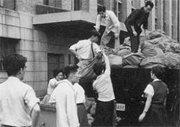 Started a movement to send books to Japanese immigrants overseas
1962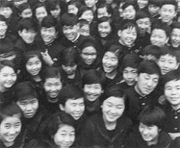 Started a movement to nurture youth friendships through correspondence
1964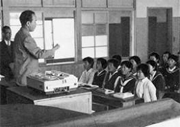 Started a movement to send recorded tapes to the visually impaired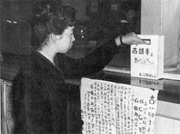 Started a movement to collect used stamps to save Nepalese from tuberculosis
1967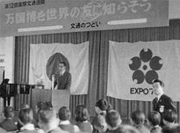 Started a movement to tell friends around the world about the Japan World Exposition 70