Activities
Activities of Pen Friend Clubs are based on correspondence (exchange of letters).
Activities of Pen Friend Clubs consist of group activities, using correspondence as a means of communication and thus linking correspondence with group activities.
Activities of Pen Friend Clubs are acknowledged by school authorities as "club activities," because knowledge attained through the exchange of letters support school education such as civic courses, foreign language courses, composition courses, and so on.
In addition to activities that are directly concerned with correspondence, Pen Friend Clubs are also undertaking activities that back up correspondence, such as organization of various meetings, visits of social welfare establishments and participation in social functions.
Pen Friend Clubs of Japan, Now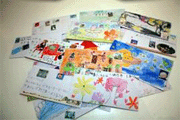 The environment surrounding us has changed greatly. Communication among people becomes more global and speedier due to the widespread use of the Internet, so the activities of PFC are beginning to gradually change to meet this situation.
Even though we can now easily communicate with someone anywhere in the world almost immediately, the reason to send "letters" is that handwritten letters can convey a warm human heart and cordiality. We think we should nurture these values more often. Letters can make receivers automatically smile, especially very touching letters, letters with genuine sympathy, and letters kept for lasting memories.
We want more people to know the wonderful value of letters. Therefore, we have many activities that create warm connections among people based on "letters" as the key word, such as holding classes in which the various ways to write humorous and elaborate letters are introduced. As well, we conduct events to increase the number of our friends and expand the wave of exchange.


Humorous letter making class


English letter writing class


Painted letter making class

Painted mailing envelope
making class


Issued the information magazine
for enjoying letters "Letter Park"
Many people live in the world, and both well-known and unknown, though important people, are here also. Much thought, cordiality, and consciousness are used to communicate by letter with someone, and people receive them with great appreciation.

They are very important because they make people happy or impress them, and they teach someone about a lot of things. Each of them is memorable and a treasure for life.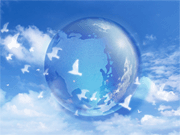 In addition, they are very precious gifts to the people "next door," or somewhere else in the world, and also in the future.
That is to say, we can unite together through "letters" forever.
Let's try to develop links of communication with more people through fascinating letters forever.